Falling Stars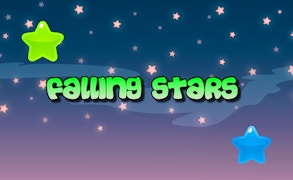 Falling Stars
Description
Dive into the world of vibrant colors in Falling Stars. This arcade-style game is designed to engage children and cultivate their attention and motor skills. Players are tasked with catching falling stars, each bearing a unique color. The aim is to match the color of the falling star with the correct color bucket.
How to play
To control the game, simply use your mouse or touch screen to move your bucket left or right. As stars fall, you must quickly decide which color they match and move your bucket accordingly. The game grows progressively faster, challenging players to keep up and accurately sort each star, thus driving up their scores.
Tips and Tricks
In order to excel at Falling Stars, flexible wrist movement is key. Always be ready to switch from one bucket to another swiftly as stars can start falling at a faster rate unexpectedly. Also, keeping an eye out for patterns in the falling stars can give you an upper edge.
Features
This game offers a range of features including:
A colorful and vibrant interface that appeals to kids.
Easy controls that encourage motor skill development.
A progressive difficulty level that aids in improving attention span and quick decision-making abilities.
An opportunity for children to learn about different colors in a fun way.
What are the best online games?