Falling Gadgets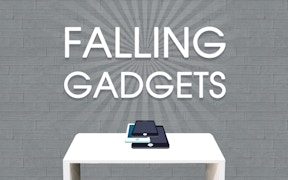 Falling Gadgets
Description
In Falling Gadgets, game players embark on an engaging mission to construct a towering structure. This arcade-style game challenges you to strategically arrange various objects falling from the sky onto a table with the aim of building the tallest possible tower. But beware! Each gadget behaves differently, adding an extra layer of complexity and amusement to this addictive game.
How to Play
Controlling Falling Gadgets is simple - use your mouse or touch screen to move the falling gadgets and release them at the desired position. The aim is to stack as many gadgets as possible, constructing a tower as high as you can without letting it fall over. As you progress, the game becomes more challenging because each gadget behaves differently.
Tips and Tricks
Patience is key! Don't rush placing your gadgets. Think about balance and distribution of weight for optimum structural integrity of your tower. Keep in mind that each gadget reacts differently, so it's crucial to learn how each one behaves for successful placement.
Features
User-friendly controls compatible with both mouse and touch screens.
A diversity of different gadgets with unique behaviours, bringing infinite possibilities to every game session.
An intriguing arcade-style setting that will test your strategic skills and reflexes.
Addictive gameplay designed for hours of fun and challenge.
What are the best online games?