Falling Down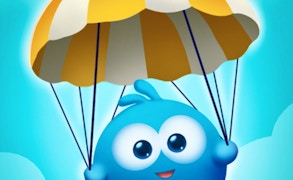 Falling Down
Dive into the sky-blue world of Falling Down, an addictive, pulsating, and dynamic adventure from the expansive realm of arcade-style flying games. This game takes fun and ramps it up to new altitudes, ensuring every player is utterly captivated by its unique charm.
In Falling Down, players command a charismatic blue bird as it swoops, glides and tumbles through a vibrant but treacherous skyline. This isn't just another run-of-the-mill flying game - your feathered friend isn't just gifted with wings but also with a handy parachute. This distinctive feature allows you to control the speed of descent defying gravity and strategically dodge an array of obstacles - transforming this high-velocity fall into a balletic display of aerial agility.
The game's aesthetics are just as appealing as its fundamental mechanics. The birdy protagonist's color pops against the aesthetically pleasing pastel skies, making for an immersive experience that will make you want to revisit this game again and again. Falling Down is not just about dodging challenges; it's about enjoying the descent and savoring each daring maneuver.
But what truly sets Falling Down apart from other fun games is its delicate balance of ease and challenge. Players of all ages can pick up the controllers and immediately appreciate the thrill of falling, while experienced gamers will find their skills tested by complex sequences of obstacles that demand precision timing and agile reflexes.
In conclusion, Falling Down is an expertly designed game that brings a fresh perspective to the flying games genre. Its delightful graphics, compelling gameplay mechanics, and captivating challenges combine to make it one of the best fun games out there in today's gaming market. So take the plunge; give your nerves a jolt and experience the exhilarating flight - or rather fall - that Falling Down offers.
What are the best online games?
Tags