Extreme Offroad Cars 3: Cargo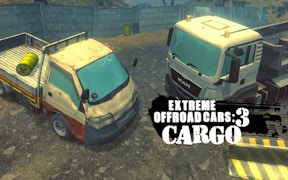 Extreme Offroad Cars 3: Cargo
Are you a fan of driving games, specifically car games and truck games? Then gear up for an adrenaline-pumping ride with Extreme Offroad Cars 3: Cargo, the latest addition in the category of offroad games that will test your skills to the limit.
This isn't just another one of those run-of-the-mill driving games. Extreme Offroad Cars 3: Cargo takes you out of the comfort of smooth, paved roads and throws you into some seriously challenging terrains. The catch? You're a cargo carrier, and losing your load is not an option. Staying on course through slippery mud tracks, steep inclines, treacherous turns and bumpy off-road terrains becomes a task worthy of real skills.
The game not only combines elements from car games and truck games but also integrates some aspects from skill games to make the experience more unique and interesting. Don't be fooled by the seemingly simple gameplay; while the main objective is straightforward - deliver your cargo intact - accomplishing this in harsh environments is anything but easy.
What sets Extreme Offroad Cars 3: Cargo apart from other offroad games are its realistic graphics, immersive sound effects, and intuitive controls which all add to a truly engaging gaming experience. The game's difficulty progressively increases as you advance further into your journey, making it even more addicting.
In conclusion, Extreme Offroad Cars 3: Cargo perfectly blends elements from different types of driving games like car games, truck games with a touch of skill games thrown into the mix. This is not just an offroad game; it's an extreme adventure that will keep you coming back for more. Are you ready to take on the challenge?
Note
: Brush up on your driving skills because they're about to be tested like never before in this thrilling addition to off-road driving games.
What are the best online games?