Extreme Impossible Monster Truck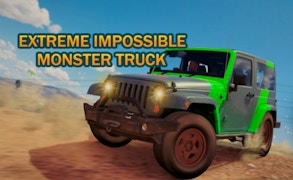 Extreme Impossible Monster Truck
Welcome fellow gamers and adrenaline junkies, strap in as we dive into the electrifying world of Extreme Impossible Monster Truck, a masterpiece in car games and truck games that pushes the boundaries of thrilling driving experiences.
The first thing to appreciate about this daring game is that it perfectly marries two exciting genres- Racing and Offroad games. This isn't just a contest of speed, but a challenging quest to master the unbeaten path. The 4*4 mountain monster stunt car takes offroad racing to a whole new level, demanding not only fast reflexes but also smart decision-making skills.
In this enrapturing world of racing games, your objective isn't only to reach the finish line first but more importantly, to confront and overcome challenging terrains and mind-boggling stunts. These aren't mere hurdles; these are tests designed to make you a master in the art of precision driving.
The use of WASD or Arrow keys for game control gives an immersive experience which tempts gamers like a moth drawn to a flame. Each press, each turn transmits an uncanny sensation that you are indeed in command of a beastly truck capable of defying gravity itself!
Extreme Impossible Monster Truck stands out amongst other driving games, it's not just about speed or beating other racers. It's about taming a mechanical beast against nearly impossible odds. This game provides an adrenaline rush unlike any other; it's not just a game, it's an adventure that dares you to defy the laws of physics in heart-stopping stunts! Are you ready for the challenge?
In conclusion, if you want to satisfy your need for speed while also pushing your driving skills to the limit on perilous off-road tracks, then Extreme Impossible Monster Truck is unquestionably your go-to destination amongst racing games.
What are the best online games?