Escape from Deathmark Dungeon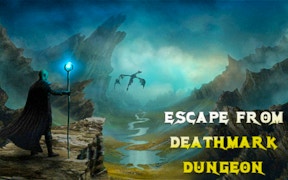 Escape from Deathmark Dungeon
Immerse yourself into the shadowy abyss of Escape from Deathmark Dungeon, a heart-thumping RPG that seamlessly blends elements of knight games, monster games, escape games, and battle games. Here, the valiant Ranger and the enigmatic Wizard are not merely characters but living, breathing archetypes, battling their way past Elves, Monsters, Undead and Goblins in a relentless quest for freedom!
In this cryptic underground world of Deathmark Dungeon, your strength is tested through its winding seven levels of dungeons. The game's graphic artistry paints a bleak yet captivating picture of desolation. You can almost feel the damp medieval stone under your feet and hear the echoing growls of obscure creatures lurking around every corner. It's an RPG where the gothic atmosphere drips from every pixel.
The game's combat mechanics provide a thrilling blend of strategy and suspense. The immersive battle sequences offer more than just hack-and-slash – they require careful planning and tactical prowess. Whether you're challenging mystical elves in epic swordplay or blasting malevolent ghouls with powerful spells, each encounter is a pulse-pounding test of skill.
Yet Escape from Deathmark Dungeon goes beyond high-octane battles - it gets under your skin with its compelling escape storyline. There is a tense air throughout the gameplay with puzzles to solve, traps to avoid, clues to decipher. It keeps you guessing at every turn. The thrill lies not just in confronting monsters but outwitting them.
If you are an RPG-adventurer thirsting for knightly duels or monstrous face-offs amidst ominous settings - this game will satiate your quest. Prepare to battle! Prepare to strategize! But most importantly- Prepare to Escape! For in the enigmatic world of Escape from Deathmark Dungeon, survival is for the bravest and escape is only for the smartest!
What are the best online games?