Endless Runner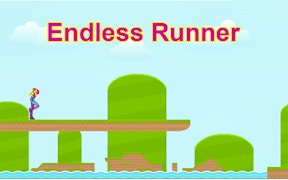 Endless Runner
Get ready to strap on your digital running shoes for one of the most exhilarating running games in the market: Endless Runner. This action-packed, pixelated masterpiece is sure to keep you on your toes as you navigate through an array of thrilling obstacles, racing against time in a battle for survival.
The beauty of the game lies in its simplicity combined with its intensity. An immersive throwback to nostalgic arcade days, Endless Runner is nothing short of being a fascinating entry in the world of pixel games. The unique blend of fast-paced gameplay and retro aesthetic makes this one a standout. With every step, every jump, every slide – you are challenged to outdo not just your competitors worldwide but also yourself.
Beyond just running for your life, this game is truly a test of your agility and quick thinking – making it an excellent choice for those who love Skill Games. The pace quickens, the stakes rise and with each passing moment, so does your heart rate. This adrenaline-inducing saga will have you perched at the edge of your seat, as you dash through endless terrains with relentless determination.
As the name hints, there's no end line in sight – just an infinite loop of breathtaking adventure and heart-stopping close calls. The controls are responsive and intuitive, ensuring that even beginners can revel in the fun without much fuss. But don't be fooled by its simplicity; Endless Runner scales up intricately in difficulty as you surge ahead.
In conclusion, Endless Runner encapsulates everything one would want from a running game - non-stop action, gripping suspense and a true test of skill. A treat for pixel game lovers and skill gamers alike! If running towards an ever-receding horizon with danger hot on your heels sets your heart racing – then strap up! Because the run never ends... it just gets faster.
What are the best online games?