Elon Cars : Online Sky Stunt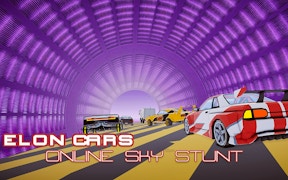 Elon Cars : Online Sky Stunt
Welcome to the adrenaline-rich universe of Elon Cars: Online Sky Stunt, a vibrant game amalgamating key elements of car games, driving games, drifting games, and offroad games into an electrifying package. This is not just a game; it's an extraordinary voyage teeming with high-octane stunts and thrilling offroad exploits in the sky.
With Elon Cars: Online Sky Stunt, Elon Cars series has once again managed to offer a visionary take on futuristic game ideas. The game cleverly embraces the multiplayer gaming system, urging players to channel their competitive spirits as they battle it out in 5-person game rooms.
Thriving in this high-stakes world requires strategy and skill. Here, each daring player is set on a quest to cross the map by swapping cars. Every successful car change levels you up and gets you closer to victory. Remember though, the road to Level 5 is fraught with challenges. Perilous falls from the map are a serious possibility - but fear not! You have three lives to play with before your thrilling journey comes to an abrupt end.
The beauty of Elon Cars: Online Sky Stunt lies not only on its gameplay but also on its reward system. With Elon Coins that you've earned through sheer determination and expertise, you're afforded the liberty to customize your ride with stunning skins and tattoos - giving you the perfect chance to showcase your personality on these sky-high racing tracks.
In summary, Elon Cars: Online Sky Stunt masterfully melds elements of car games, driving games, drifting games, and Offroad games into a compelling package that promises an unparalleled gaming experience. Its skill-based gameplay encourages strategic thinking while its exhilarating pace keeps players on edge – all hallmarks of a must-play masterpiece!
What are the best online games?