Ella Hips Surgery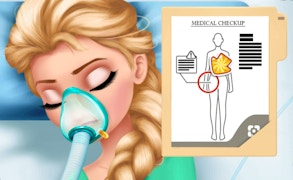 Ella Hips Surgery
Entertainment meets education in this charming simulation game that offers both fun and learning in one delightful package. The title: Ella Hips Surgery, a unique offering amongst games for girls, perfectly combines the excitement of operation games with the immersive realism of simulator games.
The story centers around our beloved Princess Elsa, who endures a painful hip accident. It's your job to step in as a digital doctor, using your virtual medical skills to help repair her broken bones and nurse her back to health.
In the process, Ella Hips Surgery educates players about the intricacies of orthopedic procedures and body anatomy, making it not just an engaging game for young girls but also a subtle learning tool. This is truly where the game shines as it seamlessly marries gameplay with educational value.
The surgery itself is enacted with realistic precision, imitating actual medical procedures as closely as possible while maintaining an appropriate tone for its youthful audience. The player's objective: help the Princess rise, sing and swing again.
The beauty of Ella Hips Surgery lies in its engaging storyline that moves beyond conventional princess narratives by introducing elements of problem-solving and creative thinking. It also brilliantly showcases how adversity can be overcome heroically – Princess Elsa doesn't stay down when she's hurt; instead, she recovers and resumes her royal duties with aplomb!
This game stands out for its intriguing gameplay mechanics, educating content and relatable narrative, making it an inclusive offering amongst games for girls. So if your little one enjoys thrilling operation games or realistic simulator games, Ella Hips Surgery promises a captivating blend of both worlds!
What are the best online games?