Elementary Arithmetic Game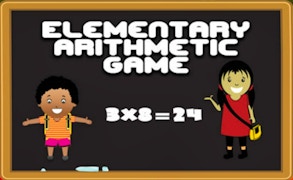 Elementary Arithmetic Game
Embark on a mathematic journey with the Elementary Arithmetic Game, uniquely tailored to spark curiosity and foster a love for numbers in young minds. Accessible and engaging, this premium game effortlessly marries the worlds of games for kids and educational games, offering an interactive platform where learning is as thrilling as playing.
Immersing players in the heart of arithmetic, Elementary Arithmetic Game presents the perfect opportunity for kids to dust off their math skills and learn new concepts. A stand-out feature of this game is its emphasis on math games, providing an avenue not just for math practice but also cognitive skill development.
The simplicity of its interface aids easy navigation. Yet, don't let its simplicity fool you - it's a challenging but enjoyable number romp where you get just a few chances to commit errors before it's game over. This unique combination mimics a blend between puzzle-solving and rapid-fire quizzes keeping your child engaged while inculcating resilience in the face of difficulty.
The Elementary Arithmetic Game is more than just one of those run-of-the-mill number games. It's a learning experience that lets children test their prowess at arithmetic right from the comfort of their digital screens. It cleverly infuses fun into learning games, transforming what might be seen as complex math problems into interactive visual challenges.
In conclusion, if you're scouting for a game that is engaging, educational, and entertaining – all rolled into one – then Elementary Arithmetic Game should top your list. It's not just about wins or losses; it's about nurturing a holistic approach to learning - one number at a time!
What are the best online games?