Easter Eggs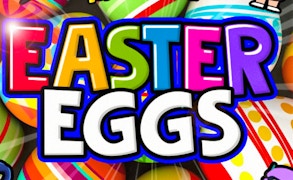 Easter Eggs
Description
Welcome to Easter Eggs, a delightful interactive tap game filled with surprises and mini math puzzles. The game revolves around the enticing concept of unboxing chocolate eggs, each revealing a cute surprise toy. Each toy you generate will aid in boosting your progress as you journey through this captivating game. Engage yourself in a fun, educative gaming experience by solving intriguing math puzzles while unraveling surprises.
How to play
Simply tap on the chocolate eggs to unbox them and reveal the surprise toy within! As you collect more toys, you'll earn points that can be used to open new eggs. The game also introduces mini math challenges that need to be solved for additional points. Your progress depends on how effectively you manage your toys collection and solve these puzzles.
Tips and Tricks
Don't rush in opening all the eggs at once! Instead, focus on consistently solving the math challenges. These not only earn you points but also improve your math skills over time. Remember, patience is key in this intriguing tap game!
Features
An interactive tapping mechanism which adds an element of excitement.
Educational math puzzles interspersed throughout the game.
A colorful and appealing graphical interface that kids will love.
A variety of cute surprise toys to collect!
What are the best online games?