Ear Clinic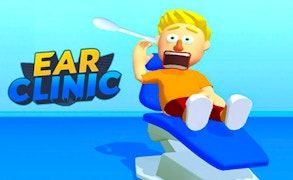 Ear Clinic
Welcome to the latest game review where we delve into the fun-filled world of our newest discovery, Ear Clinic, a delightful addition to the realm of operation games and skill games. This engaging game also falls neatly into our category of games for girls, though it's enjoyably accessible for all young gamers. It's more than just another game; it's about learning finesse, patience, and also a little about human anatomy!
Ear Clinic is set in a bustling medical department where you are put in charge, and an endless stream of patients rely on you. The aim? To clean all the earwax without causing discomfort to your patients! This game may sound simple, but it's not just about removing earwax. No two ears are alike, which means no two scenarios are alike. You'll need to master different grab tools and techniques to become a pro.
The delicate nature of ear canals adds an extra layer of challenge that sets Ear Clinic apart from other operation games. It tests your precision and caution, all while requiring speed and efficiency in equal measure; truly the perfect mixture for those seeking exciting skill games.
Especially wonderful about Ear Clinic is its inclusivity. Although tagged as one of our definitive games for girls, it has an irresistible charm that transcends gender boundaries, offering equal measures of fun and education to any eager child. A game that entertains whilst subtly teaching? We approve!
In conclusion: Do you have what it takes to be a top ear specialist? If you love operation games or skill games—or if you're just looking for excellent games for girls—then Ear Clinic will tick all your boxes. Give it a try today!
What are the best online games?