Duo Robot Skibidi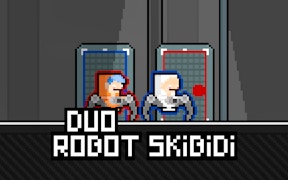 Duo Robot Skibidi
Welcome to my detailed, player-centric review of the thrilling game Duo Robot Skibidi! An exhilarating blend of arcade and adventure genres, this escape-based pixel game is a testament to the sheer enjoyment of two-player games. The unique premise has our protagonists, the robot toilet men, battling against odds to flee from a peril-riddled labyrinth.
The game involves an intricate dance of coordination and strategy where you and your friend play as Player1 and Player2. The controls are simple but demand finesse. Player1 uses Arrow keys while Player2 uses WASD for navigation. In addition, the developers have provisioned Mobile Touch Control, catering to on-the-go gamers.
Possessing a pixel-art aesthetic reminiscent of old-school classics, Duo Robot Skibidi thrives on a careful sequence of actions and teamwork amidst dangers like disappearing floors and sharp rotating saws. This game is not just about reaching the door, it's about doing so with your companion by your side.
The well-structured levels replete with challenges and obstacles test your logic, reflexes, and camaraderie. Every step requires vigilance as one false move could cost you your pixelated life in this world that's filled with hazards.
Fans of robot games will find this game particularly appealing due to its quirky yet cool characters. The dynamic between the two robots adds extra spice to this absorbing game.
To put it succinctly, Duo Robot Skibidi artfully marries arcade thrill with adventure immersion while serving up a healthy dose of cooperation-focused gameplay. The result is an endearing escapade where pixel-games meet robot-games in a heady cocktail that leaves you craving for more!
What are the best online games?