Dunk Brush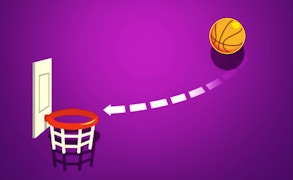 Dunk Brush
As a beacon in the realm of arcade gaming, let me shine a light on the exhilarating world of 'Dunk Brush,' an amalgamation of basketball games, ball games, and surprisingly, drawing games. Unleash your creative flair while indulging in your sporty inclinations.
This ingenious game is as straightforward as it is engaging — you draw a line, and the basketball follows its trajectory into the hoop. It presents a delightful challenge that combines precision, strategy, creativity, and sports in a captivating fusion that's hard to put down.
Dunk Brush transcends the boundary of traditional arcade games by integrating the thrill of basketball games with the cerebral engagement of drawing games. The best part? The more you play, the better you become at predicting how your drawing will influence the ball's flight path. It's about combining creativity with physics – and there's something profoundly satisfying about that.
A word to all our arcade lovers out there- Dunk Brush hosts an intuitive interface with smooth controls for drawing lines perfectly. Moreover, the sports aesthetics and ball physics are incredibly realistic. Yes, you can practically feel the tension build as your basketball hovers on the edge of the hoop before finally sinking in to usher in that sweet win!
In summary, 'Dunk Brush' is an arcade masterpiece with an addictive twist — it's not just another entry in our ever-growing list of ball games; it changes how we perceive and enjoy them. It delivers an enlivening gaming experience that entices both sports fans and artistic minds, ensuring they are hooked from their first dunk!
What are the best online games?