Drink Master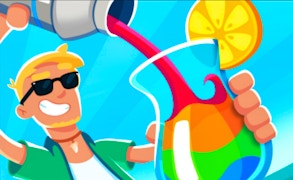 Drink Master
Step behind the digital counter and immerse yourself in the bubbling, fizzing, and clinking world of Drink Master, one of the slickest entries in the realm of hyper casual games. As a standout within the refreshing wave of clicker games, Drink Master seamlessly converges the fast-paced urgency of tap games with the subtle intricacies of creating tantalizing cocktails.
This game takes you on a thrilling ride down memory lane, reminiscent to those nail-biting moments when you stepped up to pour your first drink at a party. Only this time, you're not just pouring any drink–you're crafting masterpieces within crystalline glasses.
Drink Master's gameplay is tantalizingly simple yet profoundly addictive. The precision-based pouring mechanic that forms the core of gameplay will keep your fingers busy and your mind focused. You'll find yourself mesmerized by cascading liquid graphics, and tantalized by the challenge of nailing that perfect pour every time.
A crucial factor that sets Drink Master apart from its contemporaries is its commitment to detail. From the sparkling dew on an ice-cold beer bottle to the subtle shimmer of an expertly poured cocktail, each element contributes to an impressively immersive experience. As you progress through levels, you'll unlock new drinks and challenges that require more than just a quick click–they require strategy and timing.
Immerse yourself in this virtual world where every pour matters, every cocktail is a work of art, and every level brings new challenges to test your skills as a true Drink Master. So if your dream has always been standing behind the bar serving up perfectly poured cocktails or beer glasses teeming with frothy goodness–then step right up! Your place at the bar awaits."
In conclusion, Drink Master delivers a truly unique blend of reflex-honing clicker mechanics with engaging progression elements characteristic of many Hyper Casual Games. Keep those taps pouring and those ice cubes dropping because in this game, you're more than just another face in the crowd- you are the Drink Master.
What are the best online games?