Drift Challenge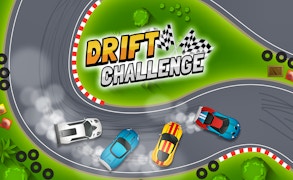 Drift Challenge
Description
"Drift Challenge" is an adrenaline-rushing racing game demanding a blend of speed and control. The key aim is to manoeuvre your vehicle smoothly, mastering the art of drifting to score maximum points on the racing circuit. With a target score to reach and a finish line to cross within a specific time frame, this game offers an exhilarating mix of challenge and delight. Perfect for those who seek fun and competition.
How to Play
To play "Drift Challenge", you'll need to navigate your car using the provided controls. The more efficiently you drift around corners, the more points you earn. Your mission is to accumulate as many points as possible while making it to the finish line within the set time limit. Each level has a target score; beat this score to unlock new, more challenging levels.
Tips and Tricks
Mastering the art of drifting is crucial in "Drift Challenge". Ensure that your car slides around bends safely but swiftly. Being too careful may cause you to lose time, but being reckless could lead you off track. Aim for a balance of speed and precision. Remember, every second counts!
Features
Mind-blowing Drifting Physics: Test your driving skills with realistic car physics that demands perfect control.
Different Levels: Overcome challenges in various levels each with a unique layout.
Score Tracking: Keep track of your scores and progress through each level.
Vivid Graphics: The game boasts impressive graphics, immersing the player in the race track environment.
What are the best online games?