Drawmaster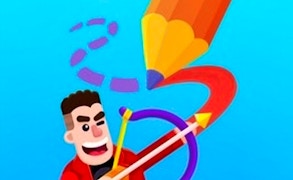 Drawmaster
Immerse yourself in the fascinating world of Drawmaster, a captivating amalgamation of drawing games, archery games, and overall fun gaming experience rolled into one compelling puzzle game. In Drawmaster, you're not just playing a game; you're wielding the innovative cross between an artist's brush and an archer's bow, crisscrossing the line between creativity and strategy with every swing of your stroke.
Unleash your inner da Vinci as you sketch out the path for your weapon, each curve and line meticulously drawn to deliver that crucial hit to the enemy. But remember, in this thrilling blend of puzzle and action, precision is key. You must strike right - not once but every time - with over 20 unique weapons at your disposal to achieve victory.
The appeal of Drawmaster is further amplified by its variety. With more than 30 different levels on offer, each designed with visually rich graphics and vibrant colors, boredom becomes a forgotten concept. Each level is nothing short of a vibrant canvas waiting for your strategic scribbles, making Drawmaster more than just one among many fun games; it's a celebration of creativity masked as a riveting combat challenge.
In conclusion, whether you're an avid cloud-chasing gamer or a casual player looking for ways to unwind after a long day, Drawmaster offers an experience unlike any other. It deftly marries elements from drawing games and archery games, inviting players to engage in an enthralling dance of strategy and creativity. Embark on the journey today; don your artistic cap, sharpen your arrows - it's time to conquer the delightful world of Drawmaster!
What are the best online games?