Drag me-ow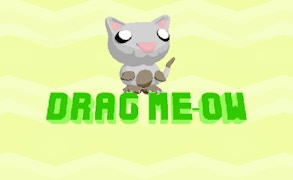 Drag me-ow
Description
Welcome to Drag me-ow, a lively pixel arcade game that combines patience, strategy, and awesome cat reflexes. In this game, your mission is to guide a feline friend to the safety and comfort of its ultimate destination — a beloved cushion. Navigate the treacherous terrain filled with obstacles and perils that threaten your furry friend's safety, using reflexes as fast as a cat's to survive.
How to Play
To play this hyper-casual game, all you need is your mouse or touchscreen. Click or touch the cat and drag it around the screen towards its cushy goal. Be quick enough to avoid deadly obstacles or risk losing the game. As you progress, the challenges will become increasingly difficult but don't despair — remember you have nine lives!
Tips and Tricks
Keep moving! Standing still won't get you anywhere in Drag me-ow. Use short, quick movements to navigate around hazards quickly. Don't rush directly towards the cushion; instead plan your path carefully, adapting on the fly to survive more effectively.
Features
Cute pixelized graphics add charm to this survival challenge
Straightforward drag-and-drop controls make it accessible for all ages
The progressively difficult levels test your endurance and reflexes
A unique theme centered around our feline friends for cat lovers!
What are the best online games?