Dotted Girl Toddler Vaccines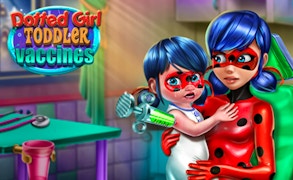 Dotted Girl Toddler Vaccines
Embark on a colorful medical adventure with the latest gem in the games for girls category, titled Dotted Girl Toddler Vaccines. Step into the shoes of a caring doctor and join Dotted Girl and her adorable toddler in an interactive journey of health and fun. The game cunningly combines elements of toddler games and operation games, organically blending educational benefits with delightful playtime.
The primary story revolves around Dotted Girl and her toddler who need your help to complete their visit at the doctor's office. It's an exceptional addition to the realm of games for girls, encouraging your little ones to learn about basic healthcare while fostering empathy towards others.
The distinguishing feature of this incredible game is its ability to transform medical procedures into an entertaining learning experience. From using stethoscopes to preparing and administering vaccines, the range of medical tools available provides a close-to-real-life exposure without any element of fear. The attention to detail in terms of graphics and sound effects further boosts its appeal, making it a must-try item in the exhaustive database of toddler games.
The game also scores high in terms of user interaction, thanks to its intuitive navigation controls and clear instructions. One does not need any prior gaming experience to enjoy all that this vibrant operation game has to offer.
No matter if it's rainy outside or just a cozy indoor day, Dotted Girl Toddler Vaccines serves as an excellent pastime that seamlessly blends learning with enjoyment. We encourage every budding girl-gamer out there to take this healthcare journey with Dotted Girl and her little one!
In conclusion, this game is not just another addition in the vast sea of games for girls. It's an outstanding representative in the sector of toddler games that demonstrate an extraordinary blend between education and entertainment. So why wait? Step into this captivating world today!
What are the best online games?