Dotted Girl Resurrection Emergency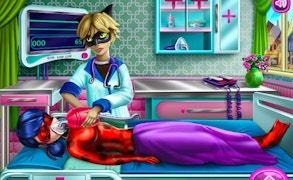 Dotted Girl Resurrection Emergency
Unleash your inner super girl and dive headfirst into the adventurous world of Dotted Girl Resurrection Emergency, an astounding game that brilliantly combines challenging operation games elements with clever strategies. Aimed primarily at games for girls, this miraculous escapade is all about embracing the hero within, exploring fascinating medical dynamics, and ultimately saving the day - your way!
Imagine donning a doctor's coat to resuscitate a superhero - certainly, not your everyday video game narrative. In Dotted Girl Resurrection Emergency, you get to go into the emergency room, tackling a myriad of first aid challenges during your mission to bring our beloved Dotted Girl back to life. The meticulous attention to detail in every medical procedure is commendable, educating players about CPR and other heroic life-saving measures in a fun-packed manner.
Not just content with ambulance sirens and surgical equipment, this game introduces you to an array of doctor tools that would give even Grey's Anatomy a run for its money! From ensuring our superhero drinks enough water to making sure she takes her vitamins - each task adds an enthralling layer of realism that makes the game incredibly immersive.
Dotted Girl Resurrection Emergency is more than just a game; it's a stimulus package for your imagination. Constantly puts your wits to the test while infusing basic health concepts and essential life skills into a riveting storyline set against beautifully rendered graphics.
In conclusion, for those seeking an exhilarating blend of excitement, suspense, and medical marvels when browsing for games for girls, Dotted Girl Resurrection Emergency anchors itself as an unmissable feat among operation games. Jump in now to experience first-hand why this remarkable superhero truly deserves her miraculous resurrection.
What are the best online games?