Doodle Dunk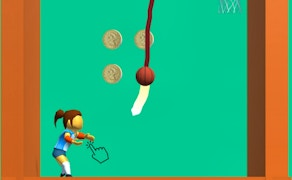 Doodle Dunk
Step onto the digital court with Doodle Dunk, a captivating blend of arcade-style drawing games, ball games, and basketball games that elevates the genre to new heights. This is not your typical round of hoops; instead, it challenges you to literally draw your own success.
Doodle Dunk requires players to draw the route of shooting the basketball. Unlike traditional basketball games, your challenge is to ensure that your carefully drawn path guides the ball into the hoop without touching anything. Pulling off clean shots feels immensely satisfying, as you're not just relying on a button press but actively creating your own trajectory.
This unique gameplay mechanic turns each round into a meticulous, thrilling puzzle. It tests both your strategic acumen and artistic flair, as you sketch intricate paths to outmaneuver obstacles and secure a win. The immersive visuals complement this mechanic perfectly, blending doodle aesthetics with responsive physics for an authentic arcade feel.
However, Doodle Dunk is not a solo endeavor. Sometimes, your teammates come back to help. This adds an additional layer of complexity and fun to the game as you must now consider their movements when drawing your shooting route. It creates memorable moments of cooperation in an otherwise single-player experience.
In conclusion, if you have been searching for something refreshing in the realm of basketball games or just love innovative twists on drawing games, Doodle Dunk should be at the top of your list. It's a vibrant amalgamation of genres that coalesce into one rewarding experience that's more than just shooting hoops – it's crafting masterful plays through artistic creativity and strategic skill.
What are the best online games?