Don't Drop the Pig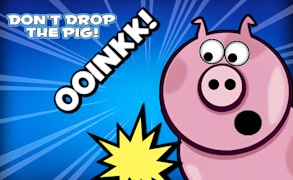 Don't Drop the Pig
Description
In Don't Drop The Pig, get ready for an engaging blend of action and precision. This easy-to-learn, hard-to-master game, takes you on an endless balloon-tapping adventure to save a charming pig from falling. The game's colorful 2D graphics and lively animations bring on-screen activities to life, offering a captivating playing experience that's perfectly suited for kids and adults alike.
How to Play
The objective in Don't Drop The Pig revolves around keeping the pig in mid-air by tapping on inflating balloons. Use your finger to precisely pop these balloons, ensuring the pig stays aloft. Remember, one wrong tap could end the game–try to achieve the highest score possible in this endless gameplay.
Tips and Tricks
Aiming for accuracy over speed is key in Don't Drop The Pig. Learn to predict balloon inflation patterns to keep the pig afloat for longer periods. Also, listen closely to the game's sound effects–they can give you helpful hints on the timing of your taps.
Features
Friendly UI: Designed with simplicity in mind, making it suitable for all ages.
Captivating visuals: Bright 2D graphics and smooth animations keep players engaged.
Infinite gaming sessions: With no limits on gameplay, strive to continuously beat your high score.
Audible cues: Enables players to time their taps perfectly via sound effects.
Kid-friendly design: Perfectly safe with child-oriented content and no violent themes.
What are the best online games?