Dominoes Classic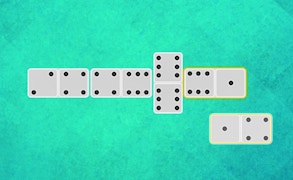 Dominoes Classic
If you're a fan of number games and family games, you'll be thrilled with Dominoes Classic. Designed with a minimalist aesthetic, this board game classic will take you back to nostalgic times. Whether you're new to dominoes or a seasoned player, this game's three variants offer something for all skill levels.
Dominoes Classic, as the name suggests, brings the timeless charm of the traditional board game straight to your living room. A great blend of strategy and luck, this game will have you hooked from the first tile placed. Unlike other number games that might feel tedious after a while, Dominoes Classic keeps things fresh and intriguing all the way through.
The beauty of Dominoes Classic lies in its simplicity. With no fancy add-ons or complicated rules, it sticks to what makes dominoes great - crisp gameplay centered around numbers and tiles. This makes it an ideal pick for family games nights, promoting healthy competition while keeping everyone involved.
This version stands out with three exciting game variants - ensuring replayability and catering to everyone's taste. Whether you prefer quick matches or long strategic battles, there's an option for you. The challenge of trying to get rid of all your tiles before your opponent adds an intense thrill to each round, spicing up every moment of play.
In summation, Dominoes Classic is more than just a number game; it's a piece of gaming history made modern. It weaves together nostalgia, strategy and enjoyable gameplay into an unforgettable experience. If you're on the hunt for entertaining family games that are easy-to-understand yet hard-to-master, look no further than Dominoes Classic.
What are the best online games?
Tags