Domino Legend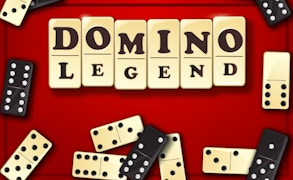 Domino Legend
Description
Revisit the timeless world of Domino Legend, a game that seamlessly blends the charm of classic dominoes with modern gameplay. Enjoyable for everyone, whether you're a seasoned veteran or rekindling an old pastime. This game offers two popular variations, Block and Draw, ensuring an immersive experience that's just a click away!
How to play
The controls for Domino Legend are quite straightforward - all you need is your mouse to drag and drop the tiles onto the board. The aim is to match your pieces with the ones on the game board by number. Beat your opponent by either being the first to play all your pieces in a block game or by scoring the lowest number of points in a draw game.
Tips and Tricks
In Domino Legend, strategy is key. Always keep track of the dominoes played. Observe which suits have been exhausted and make moves accordingly. In draw games, remember to play your higher point pieces earlier as points left on hand count against you.
Features
Mesmerizing Graphics: Vibrantly designed dominoes and game board.
Variations: Offers both Block and Draw gameplay options.
User-friendly Controls: Simple dragging and dropping mechanism.
Strategic Gameplay: Challenges your planning skills with its elements of strategy.
What are the best online games?