Doggy Quest The Dark Forest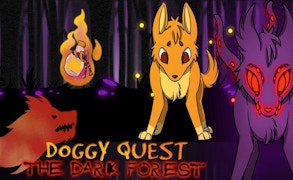 Doggy Quest The Dark Forest
Welcome to the world of 'Doggy Quest The Dark Forest'. It's not just one of your run-of-the-mill animal games, but a gripping and thrilling adventure that transports you into the very heart of danger and uncertainty. A game where your skills are your most potent weapon.
In Doggy Quest, you stand in the shoes or more accurately, paws, of a brave dog fighting for survival in a dark, menacing forest teeming with strange creatures and deadly monsters. The darkness of the forest is palpified by the eerie ambience that pervades throughout your journey.
The game does an excellent job capturing your imagination with its ability to switch between two contrasting worlds - the real world and hell. This isn't just another one among numerous Skill Games; it demands agility, quick thinking, and perfect timing. As you navigate from one world to another, escaping danger becomes an adrenaline-pumping experience.
You not only survive but master this scary landscape by flipping your dog avatar skillfully to avoid threats that lurk around every corner. This innovative gameplay mechanic deserves a special mention for adding an edge-of-the-seat thrill to what might seem like another predictable animal adventure game.
Overall, Doggy Quest The Dark Forest is immersive, challenging, and packed with elements that keep you hooked till the end. Fans of both animal games and skill games will find it uniquely satisfying. The stakes are high, the journey perilous but remember - as long as you can flip, you can survive.
Doggy Quest The Dark Forest
stands out as a challenging game that tests your gaming skills while simultaneously providing an intense adventurous experience with animals at its core. Join us in this intriguing quest filled with danger and courage – where survival means flipping your way out of hell's jaws!
What are the best online games?
Tags