Dog and Cat Jigsaw Joyride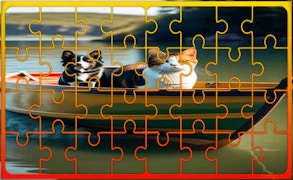 Dog and Cat Jigsaw Joyride
Description
Dive into the delightful journey of Dog and Cat Jigsaw Joyride! It offers an exciting puzzle slider experience that challenges your power of observation and solving skills. The game revolves around manipulating images until they perfectly align, unveiling a captivating Dog and Cat picture. Featuring an extensive range of endearing images, players will be spoiled for choice.
How to Play
Playing Dog and Cat Jigsaw Joyride is a breeze. To start, select an image from the collection. Then, simply shift around the jumbled segments until they fit correctly, revealing a beautiful pet picture. Your progress in this game strictly depends on how quickly you can solve each puzzle.
Tips and Tricks
To excel in this game, always start by identifying the corners and edges of the picture. After completing the peripheral frame, it becomes easier to fill up the central part of the image. Most importantly, enjoy each puzzle as you assemble these adorable pet images!
Features
A large selection of charming Dog and Cat pictures
Puzzle Slider game format that tests visual acuity and problem-solving skills
Progress tracking system, challenge yourself with each puzzle solved faster than before
The excitement of putting together jumbled pieces to reveal a beautiful image – perfect for dog and cat enthusiasts!
What are the best online games?