Doctor Teeth 2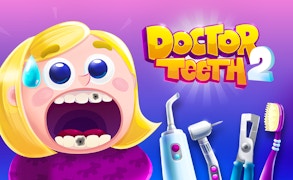 Doctor Teeth 2
Nobody likes going to the dentist and even those that work there may feel conflicted at times, but Doctor Teeth 2 tries to turn the whole experience into a game. You play as a faceless nameless dentist who sees all a manner of patients, both organic and inorganic. It seems no matter what species you are, there's a chance you're going to have problems with your teeth. The 2D cartoon game is a series of dentist-themed puzzles with each patient having multiple appointments. Who knows what these people are doing to mess up their teeth so badly, but your only concern is helping to fix them up.
About Doctor Teeth 2
There's an odd trend in gaming with very graphic health-related titles being quite popular, but this game tries to tone it down a bit. It's gross, sure, but nowhere near as much as some of the other similar titles out there. In fact, it's quite tame and clean all things considered. You can actually appreciate the work that you're putting into treating the patient and following the different procedures. Certain actions will be repetitive while the actual execution gets more difficult to keep you alert which is the least you can be when you're working with people's delicate and hypersensitive teeth.
How to Play
The game is controlled entirely via the mouse which is used to click on the various tools and apply them to the patient as needed. A checklist of the procedures you need to perform is in the top right corner of the screen. Each tool needs to be used specifically and will sometimes be associated with a specific mini-game.
Tools
Toothbrush - Click and drag over plaque-covered teeth
Flosser - Spray over bad breath until water fills the mouth
Drainer - Use to remove Flosser water from the patient's mouth
Pliers - Use to pull out dead teeth (rapidly click tooth)
Drill - Use on cavity-infested teeth (click to fire blasts to remove cavities)
Paste - Use to fill drilled teeth (match teeth pieces with the appropriate hole)
Gold Tooth - Place where the dead tooth was removed
Brace - Place over a tooth gap
The goal is to perform all of the procedures perfectly per appointment. Doing so will be marked by earning three stars.
Tips and Tricks
During the introductory puzzles, take your time to get a feel for each of the tools as they're introduced. In terms of click-based mini-games, you can spam the click function to quickly clear them. For click-and-drag puzzles, don't move too quickly or you'll have trouble grabbing the right things.
Game Details
Developer: Miniduck
Platforms: Web Browser (PC and mobile)
Languages: English
Gameplay Footage
FAQs
Why isn't the game called Dentist?
While almost everyone knows what a doctor of teeth is called, it's likely that Doctor Teeth was chosen to be more attention-grabbing while sounding more light-hearted.
Games similar to Doctor Teeth 2
Based on what's in the game, GamePix has put it into the Operation Games category. This library has games like Healing Rush, Ear Clinic, and Fruit Doctor.
What are the best online games?