Doc HoneyBerry Kitty Surgery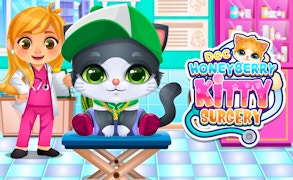 Doc HoneyBerry Kitty Surgery
Description
Step into the shoes of Doc HoneyBerry in an adorable game filled with love and care. Find a cute, injured kitty discarded in the trash and take it under your wings. The game revolves around healing the poor kitty's wounds, mending its broken bones, styling it with adorable outfits, and giving it a complete fashion makeover. Give this furry friend a second chance at life!
How to Play
The game mechanics are incredibly simple. Use your mouse to drag and drop medical instruments onto the injured areas, following prompts for correct usage. Once healed, start dressing the kitty using various clothes and accessories available in your inventory. Use your creativity to style an entirely new look for this adorable feline!
Tips and Tricks
The initial operation phase requires patience. Make sure you accurately follow the prompts for quick healing. While dressing up the kitten, keep experimenting with outfits and accessories until you find a look that feels right. Remember, there is no time limit so take your time to execute your tasks perfectly.
Features
An engaging storyline that tugs on your heartstrings.
Diverse medical tools for interactive gameplay.
Variety of cute outfits and accessories for customization.
No time limits allowing leisurely gameplay.
Beautiful graphics bringing the characters to life.
What are the best online games?