Dive Masters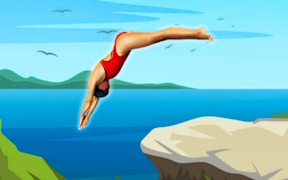 Dive Masters
Welcome to my latest game review, today we're diving deep into the immersive world of Dive Masters, an exhilarating arcade and sports themed game, making waves in the gymnastics-games and skill-games category.
If you have ever fantasized about performing daredevil high dives from blazing heights, Dive Masters is your ticket to this adrenaline-pumping adventure. This game embraces the audacious spirit of cliff-jumping, marrying it with arcade-style fun to produce an experience filled to the brim with thrill and excitement.
The game begins on an inviting note, challenging you to perform a plethora of dive stunts including frontflips, backflips, pikes, tucks and freeform swan dives from a range of high platforms such as cliff edges, towering trees, sky-touching towers, and bouncy trampolines. Needless to say, it's a virtual smorgasbord for any thrill-seeker!
The character roster is populated with a wide range of diverse characters waiting to be unlocked. Each character comes with their own unique look and theme, adding that extra spice to your dive challenges. The game also rewards you with new dive tricks and moves as you progress through the levels - giving you an extra incentive to perfect your entry into those waters!>
Dive Masters injects new life into the arcade sports genre by offering an invigorating mix of skill-based gameplay and gymnastic finesse. It is not just about speed or power; precision and timing are key - much like real-world diving competitions.
To conclude, Dive Masters is an enthralling entrant in the world of gymnastics games and skill games. If you are looking for a game that combines sports, skill, gymnastics, and arcade fun into one thrilling package, Dive Masters is the game for you!
What are the best online games?