Dirt Bike Racing Duel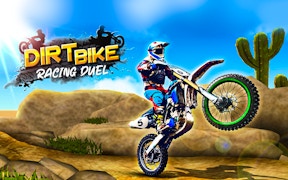 Dirt Bike Racing Duel
Immerse yourself into the gritty, adrenaline-filled world of Dirt Bike Racing Duel, an exhilarating addition to the realm of motorcycle games and dirt bike games. This thrilling game challenges you to master your virtual biking skills, taking you on a ride across seven continents, through a dizzying array of terrains and environments.
A noteworthy highlight is the game's commitment to enriching your driving experience - this is not just about speed; it's also about control, balance and execution. Each level fascinates with unique surprises adding a fun twist to your traditional expectations of driving games. From snow-capped mountains to sun-kissed beaches, this game showcases vistas that are as challenging as they are visually breathtaking.
The standout feature though, is the game's 2 player mode. Engage in an electrifying duel with a friend and experience the intense competition that ensures no two races are ever the same. With countless levels available, Dirt Bike Racing Duel takes 2 player games to a whole new level of excitement.
Further enhancing its replay value is the game's upgrade system. True to its roots as one of the pioneering simulator games, it allows you to buy new bikes or enhance your existing ride in a comprehensively detailed shop. This layer of strategic depth makes Dirt Bike Racing Duel more than a mere racing game - it's an immersive journey packed with tension, precarity and triumph.
To all lovers of skill games, if you're seeking high-speed thrills and spills, look no further. Step up to the challenge, master those daring drifts in these heart-stopping drifting games, and prove your mettle in Dirt Bike Racing Duel!
What are the best online games?