Dino Squad Battle Mission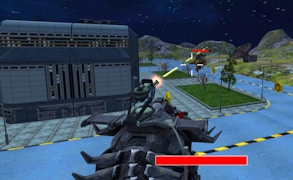 Dino Squad Battle Mission
Welcome to the realm of prehistoric warfare and strategy in the sensational world of Dino Squad Battle Mission, where the survival of the fittest is not just a concept but a brutal reality. As one of the most captivating battle games that plunges you straight into the heart-pounding action, this game fuses together elements of both dinosaur and skill games into an adrenaline-packed experience.
If dinosaurs and battles are your gaming poison, this game will leave you with an insatiable thirst for victory. The objective is to fight your way through hordes of hostile dinosaurs in an epic bid to shatter the siege formed by a ruthless death squad. With each level, you'll feel your pulse rate quicken as you navigate through dangerous terrains to confront your fierce foes.
In Dino Squad Battle Mission, each second counts, and every decision could mean life or death. Given its intricate gameplay, this game unveils itself as a powerful addition to skill games that challenge players' strategic thinking and reflexes. The AI-powered enemy dinosaurs are formidable and unpredictable, transforming every combat encounter into a test of agility and cunning tactics.
Your encounters with these beasts are not for the faint-hearted; each enemy showcases a unique set of skills and battle tactics, making this one of those dinosaur games where no two battles are ever identical. Navigating these complex dynamics requires more than just muscles - it calls for quick thinking and swift reactions.
In conclusion, Dino Squad Battle Mission is more than just a game—it's an engaging expedition into a world where you're more than just surviving; you're fighting tooth and claw for dominance against nature's most formidable creatures. This is one battle game that ambitiously bridges the gap between skill gaming and dinosaur-themed adventures, delivering an action-packed gaming experience in spades.
What are the best online games?