Dino Meat Hunt New Adventure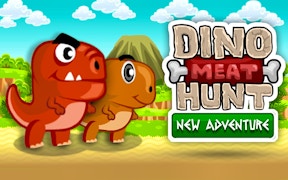 Dino Meat Hunt New Adventure
When the chill of winter descends upon the land, nothing warms your gaming heart quite like a thrilling romp through prehistoric times with Dino Meat Hunt New Adventure, one of today's most enthralling dinosaur games.
Immerse yourself in the wild and fantastic world of our ancient, scaly friends, as they undertake a perilous journey in search of sustenance. The adventure truly heats up as you maneuver through each level, packed to the brim with tough puzzles that require wit and dexterity to solve.
What sets Dino Meat Hunt New Adventure apart from other dinosaur games is its innovative two character system. You get to control not one, but two different dinos - each with unique abilities that you will need to utilize effectively in this exciting escapade. The smaller dino's jump can reach unexpected heights – crucial for those hard-to-reach spots, while the larger dinosaur's strength can demolish menacing adversaries – a handy tool for when you encounter perilous creatures during your quest.
This game sets a new standard for 2 player games by combining elements of cooperation and strategy that elevates gameplay to a whole new level. It's not just about solving puzzles and beating levels; it's about strategizing, cooperating with your partner, and ensuring that your prehistoric pals are well-fed for winter.
Fans of escape games will appreciate the added layer of complexity that comes with navigating through treacherous terrain filled with hazards and enemies at every turn. From dodging killer bees to leaping over lava pits - this game doesn't just test your skills; it hones them.
Dino Meat Hunt New Adventure isn't just another entry in the pantheon of dinosaur or skill games; it carves out its niche by offering something a little bit different – an escape game rooted firmly in teamwork, survival strategy and hair-raising fun. So why wait? Gather up a friend (or go it alone if you dare) – an epic meat hunt awaits!
What are the best online games?