Dino Jump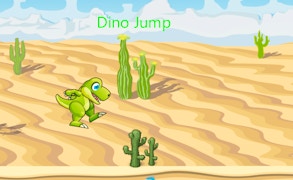 Dino Jump
Description
Experience the prehistoric thrill with Dino Jump, an addictive arcade game that brings out your inner child. As a fun and lively dinosaur, your goal is to leap over cacti obstacles and tally as many points as you can. This charming game is simple to grasp but difficult to master, ensuring countless hours of Jurassic fun.
How to Play
The gameplay is straightforward; tap your screen to make the dinosaur jump. The key is timing your jumps perfectly to avoid the spiky cactus obstacles. Each successful jump results in points. As you progress, the speed of incoming cacti increases, challenging your dexterity and reaction speeds.
Tips and Tricks
The secret to a high score in Dino Jump is in anticipation and timing. Keep an eye out for the arrangement of cacti; sometimes it's wiser to stagger your jumps instead of leaping too soon. Remember, practice makes perfect, so keep at it!
Features
User-friendly Interface: With its easy-to-understand controls and vivid graphics, players of all ages can enjoy the game.
Addictive Gameplay: The difficulty increases gradually, making it a challenge that's hard to put down.
Kid-friendly: Dino Jump is not only fun but also suitable for children with its cute dinosaur character and harmless obstacles.
Free: Enjoy this thrilling arcade game without any cost.
What are the best online games?