Dino Fusion Bubble Evolution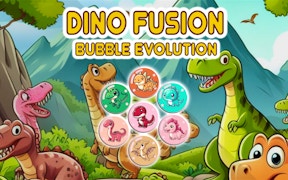 Dino Fusion Bubble Evolution
Step back into the prehistoric era and engage in a mind-boggling battle of wits with the freshly released Dino Fusion Bubble Evolution. This jaw-dropping entry in the match-3-games category doesnt just offer colourful visuals and catchy music, but truly challenges your strategic abilities along with your dexterity.
As a delightful crossbreed between dinosaur-games and brain-games, Dino Fusion sets itself apart from its peers. Within its dynamic sphere-filled dinosaur world, you'll find yourself not simply matching identical elements but strategically fusing dinosaur bubbles to create new, robust prehistoric creatures. It's a twist that adds an extra layer of complexity, and indeed fun, to this otherwise familiar genre.
Packed with lots of colorful dinosaur bubbles, Dino Fusion Bubble Evolution dares you to match and merge these unique creatures. As the game progresses, so does your collection! The journey to unlocking more exciting dinosaurs keeps you hooked from start to finish. Each time two identical dinosaurs come together; it's not just about popping them off the game grid. Instead, they fuse to form a new species, modestly reminding us of our own evolution on this planet.
The creator's immense attention to detail is commendable. From creating an engaging storyline that paints a vivid picture of our prehistoric past to structuring intricate gameplay mechanics that gel flawlessly with each other, every aspect breathes life into this beautifully crafted masterpiece.
If you're up for a high-octane fusion of strategy, quick-thinking and fast-paced action all delivered in a vibrant prehistoric setting, then it's time you popped some dinosaur bubbles in Dino Fusion Bubble Evolution. It promises not only an adrenaline rush but also throws at you enough cerebral challenges to keep those neurons firing!
What are the best online games?