Digger Ball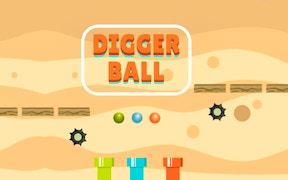 Digger Ball
Welcome to the subterranean world of Digger Ball, an exciting new entry in the world of arcade gaming. In this intriguing mix of mining games and ball games, gamers have to display calculated precision, quick thinking and masterful maneuvers. Filled with suspense, thrill and brain-buzzing challenges, Digger Ball is a true gem for those who love skill games.
The premise is simple. Your mission: Dig a tunnel for a ball to slide through. As you burrow your way through the darkness, the objective is not just to reach the end but maintaining a downhill slope all the time. The game tests your spatial reasoning and cognitive flexibility as the ball won't roll if the surface is horizontal.
But don't be deceived by its simplicity. Digger Ball sets up an engaging terrain filled with obstacles in the form of iron or wooden planks that you need to avoid deftly while ensuring that your ball keeps rolling downhill. The game adds layers of complexity with every level upping its thrill quotient, making it a ride down a rollercoaster-esque labyrinth.
The beauty of Digger Ball lies in its ability to combine strategy with action - two key elements that make for great arcade gaming. This game isn't just about speed or power, it's about constant decision-making, quick reflexes, and smart strategies.
If you're looking for a fresh challenge in mining games, or you're a fan of physics-based ball games, Digger Ball delivers on all fronts. Its gameplay brings new dimensions to traditional arcade gaming —proving yet again that skill can provide as much excitement as spectacle.
Buckle up, gamers! Prepare for a thrilling descent into an addictive world paved with obstacles and laden with rewards. You're in for more than just fun-packed hours; it's time to dig deep into your skills and let Digger Ball take over!
What are the best online games?