Dig It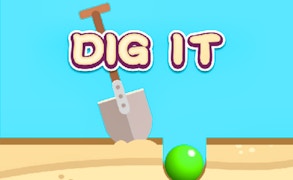 Dig It
Embark on a captivating journey of strategy, precision, and dexterity with the quintessential arcade game Dig It. A phenomenal fusion of fast-paced action and intricate puzzle-solving, Dig It allows players to master the art of swift decision-making in a dynamic, ever-evolving environment. If skyrocketing your gaming prowess is your passion, then this game adorned with tags such as Skill Games, ball games, clicker games and tap games will keep you hooked for hours on end.
Dig It is an exquisite tapestry of arcade gameplay that demands not only skill but also strategy. The primary aim is simple yet engaging - use your fingers to excavate a hole and seamlessly guide the ball to its destination. Trust me when I say that what seems like child's play initially soon morphs into an intense test of timing, speed, and precision. Dig It is a game that offers an immersive experience that combines elements from both ball games and clicker games.
The allure of this game lies in its increasing complexity; just when you think you've mastered the drill (pun intended), Dig It throws a curveball at you! In essence, Dig It is indubitably one of the best tap games, as it encourages players to bring out their A-game at every level.
Apart from its adrenaline-inducing gameplay, Dig It's stellar graphics transport players into a vibrant world brimming with colors and excitement. In conclusion, if you've got skillful fingers looking for an exciting challenge or simply appreciate a good puzzle game when you see one, then dig into the exhilarating world of Dig It!
What are the best online games?