Dice Push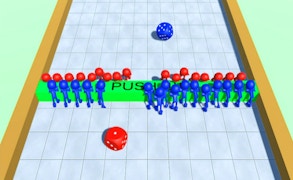 Dice Push
Unleash your strategic warrior within and prepare to engage in an exhilarating battle of wits with Dice Push, the latest addition to the realm of arcade stickman games. This game is a harmonious blend of hilarity, strategy, and intense competition, sure to captivate both casual gamers and hardcore enthusiasts alike.
Adorned with 3D stickman models poised on a dynamic platform, Dice Push ingeniously integrates the randomness of dice throwing with the thrill of battle games. Your mission? Utilize your best strategies to dispatch as many stickman troops as possible, pushing the green wall towards your adversary's side. An absolute joy for fans of fun games, every round is an unpredictable chaotic ballet where timing, luck, and strategy intersect.
The game's visuals are a playful nod to minimalistic design. The 3D stickman models are not just canvas placeholders but full-fledged warriors ready to fight for their ground. Dice Push offers more than just mindless thrills - it's a testament to how simplicity can give way to complexity. Every dice throw can drastically shape the course of the battle, transforming seemingly sure victories into breathtaking defeats.
Dice Push is not a game you merely play - it's an experience you savour. The exhilaration when you knock out enemy members with well-placed dice throws, the suspense as you watch your stickmen army push against that green wall - it's all part of what makes this game so addictively enjoyable.
In conclusion, Dice Push flawlessly demonstrates that battle mechanics and comedic presentation can coalesce into one unique package. If you're looking for a game that delivers laughter, adrenaline rushes, and nail-biting finishes in equal measure, Dice Push should definitely be on your radar.
What are the best online games?