Diamond Rush 2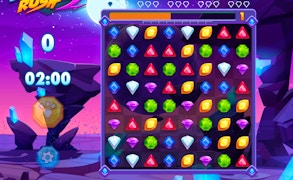 Diamond Rush 2
Enter the shimmering world of Diamond Rush 2, the latest gem in the universe of jewel games. An escalation from its predecessor, Diamond Rush 2 is a sparkling blend of brain-teasing puzzles and fast-paced action that fans of Bejeweled games and match 3 games will find irresistible.
The gameplay is fundamentally the same as the original – match dazzling jewels to clear them, creating room for more to fall into their place. But this time, it's not just about matching 3; the more you match, the better your score. Destroy jewels in dynamic ways, triggering explosive chain reactions that will keep you on your toes and engrossed in this enchanting world.
The hallmark of any great game is its ability to challenge players while still keeping them engaged. Diamond Rush 2 nails this aspect with its range of intricate levels designed to test your strategic thinking abilities. It is everything you love about brain games; from requiring sharp mental agility for quick decision making, to the tactical planning needed to advance, every twist and turn will have you second-guessing your next move.
An integral part of this game's charm lies in its remarkable visuals. The effects when you match gems are spectacular; expect to see a kaleidoscope of neon lights with every explosive combo you set off! The sound design compliments the stunning animations perfectly, creating an immersive experience that will transport you into this glowing spectacle.
In conclusion, fans of jewel games, seasoned veterans of Bejeweled games, or newcomers alike, Diamond Rush 2 offers an appealing mix of sparkling visuals and clever gameplay mechanics. Immerse yourself into this glittering universe and witness a new standard for match 3 games. If you are looking for a thrilling way to test your cognitive capabilities – prepare for a diamond-studded brain workout!
What are the best online games?