Diamond Compiler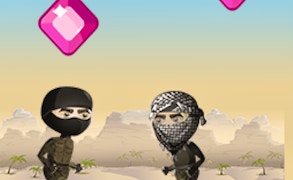 Diamond Compiler
Description
Enter the shimmering universe of Diamond Compiler, an adventure arcade game that will tickle your brain and fuel your energy. The game's primary objective is to gather as many precious diamonds as possible. This highly addictive pastime is a great way to both pass time and exercise mental prowess, making it an ideal choice for gaming enthusiasts.
How to Play
The controls are simple: Use your navigation keys or swipe on your screen to move around, and seek out as many diamonds as you can. Progress in the game is determined by the number of diamonds collected. But beware, each level gets progressively more challenging, keeping you constantly on your toes.
Tips and Tricks
Stay alert while navigating this virtual realm. Strategizing your moves will not only help you collect more diamonds but also avoid any unforeseen obstacles. Remember, speed is essential but so is precision. Mastering the balance between these two is the key to success in Diamond Compiler.
Features
Intuitive Controls: Easy-to-use controls make it accessible for players of all skill levels.
Vibrant Graphics: You'll be captivated by its vivid visuals.
Addictive Gameplay: Challenge yourself with increasing difficulty that keeps you coming back for more.
Mental Exercise: Apart from being fun, it's a great way to stimulate your mind.
What are the best online games?