Destroy Boxes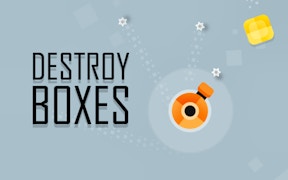 Destroy Boxes
Step into the exhilarating world of Destroy Boxes, a game that masterfully merges the exciting essence of Shooting, Skill Games, Ball Games, Clicker Games, and Tap Games. This game is not just about blasting boxes, it's about tactically employing your skills, agility, and timing in an immersive environment.
Destroy Boxes lures you into its realm with its simplistic design but keeps you hooked with its complex and challenging dynamics. The premise is simple: Destroy all the boxes! But as any seasoned gamer knows, simplicity often hides depths of strategy and skillful execution. And this game does not disappoint on that front.
The clicker dynamics demand rapid-fire execution - perfect for honing your reflexes and delivering that adrenaline rush unique to Skill Games. Every box destroyed grants a sense of satisfaction, only amplifying your appetite for destruction. You will need to strategize your clicks as well; some boxes require one click, while others might need more. Pacing is everything here!
The elements of Ball games add a fresh spin to the shooting theme. Using balls as projectiles infuses a unique element into the game that keeps every level engaging and fun-filled.
In an arena where tap games are increasingly popular, Destroy Boxes stands out with its simple yet stimulating gameplay mechanics. The seamless integration of clicking, tapping, shooting, and strategic planning creates a gaming experience that is addictively delightful.
In conclusion, whether you're a fan of Shooting games or you enjoy Skill-based challenges with elements of Clicker and Tap mechanics thrown in, Destroy Boxes is sure to keep you engaged and coming back for more box destroying fun!
What are the best online games?