Design My Kendama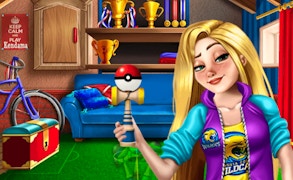 Design My Kendama
In the bustling and colourful world of Games for Girls, a new fashion game star has risen, Design My Kendama. The beautifully crafted game brings the traditional and globally popular Kendama games to life, with an interesting twist – it's not just about playing; it's about creating!
As players dive into this flamboyantly fashionable universe, they're not only navigating their character - our charming princess - through her first Kendama contest, but also personally designing the Kendama she flaunts. This personalized tool is more than just a toy in this game; it's a symbol of creativity, individuality and style, making Design My Kendama stand out amongst other fashion games.
The game extends its elegance to an array of three different types of Kendama games. Each type comes with its unique challenges and aesthetics that require the player's meticulous attention and sharp creativity. As your princess readies for her contest with each game type, you're entrusted to design her Kendamas fitting for each match. This engaging blend of design and gameplay is doubly delightful.
The vibrant graphics are enough to steal any young girl's heart right away. On top of that, the designing process itself is both fun and educational as it encourages girls to express their own taste in fashion while understanding the cultural appeal of traditional games like Kendama.
Whether it's your love for fashion or your curiosity about traditional games like Kendama that brings you here, Design My Kendama guarantees an exciting fusion between old-school gaming and modern-day virtual styling. It's not just about winning; it's also about having fun while unleashing your creative prowess! So girls, get ready to design, play, shine—and most importantly—have fun in this captivating world of Princess Kendama Design!
What are the best online games?