Deep Sub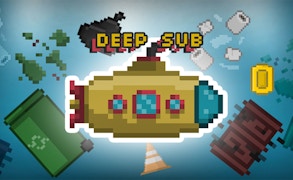 Deep Sub
Description
In Deep Sub, players navigate a submarine in the vast expanse of the ocean. Your mission is not only about exploration, but also about survival and collecting treasures. Be careful to avoid the discarded debris that litters the ocean floor, while scooping up valuable coins. This game combines elements of thrilling navigation with skill-based collectibles for a truly immersive arcade experience.
How to Play
Control your submarine using simple arrow keys or swiping controls, moving up and down to avoid obstacles. You earn points by successfully navigating around trash and collecting coins along your journey. The game progresses in difficulty as you delve deeper into the ocean depths, making careful maneuvering vital for your survival and high score achievement.
Tips and Tricks
Focus on mastering your navigational skills before worrying too much about collecting coins, as avoiding trash is paramount to lasting longer in-game. Additionally, be patient; rushing through will only lead to mistakes. Time your movements carefully and plan ahead when possible to collect maximum coins.
Features
Skill-based Gameplay: Navigate carefully through underwater debris while collecting coins.
Progressive Difficulty: As you descend deeper, the game becomes increasingly challenging.
User-friendly Controls: Simple controls that are easy to understand but hard to master.
Addictive Arcade Style: The game's old-school arcade feel will keep players coming back for more.
What are the best online games?