Deep Blue Turtle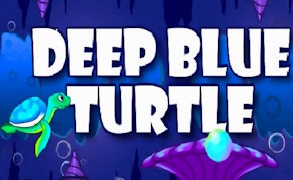 Deep Blue Turtle
Description
In Deep Blue Turtle, embark on a thrilling underwater adventure! Take control of a brave little turtle navigating the deep blue sea, dodging dangerous jelly fish that stand in your way. The objective is to stay afloat and gather as many pearls as you can. This continuous game will keep you entertained for hours on end with its exciting gameplay and vivid, captivating graphics.
How to Play
The controls of this game are very straightforward - simply tap or click to make your turtle rise and avoid the jelly fish. The game is controlled entirely by tapping or clicking, making it easy for players of all skill levels to jump right in. Be cautious, contact with jelly fishes ends the game. Your goal is to collect as many pearls as possible, which will increase your score.
Tips and Tricks
Skillful and careful navigation is crucial in Deep Blue Turtle. Be sure to maintain a steady rhythm while tapping or clicking to avoid colliding with jelly fish. Also, try to anticipate their movement so you can come up with an effective strategy for pearl collection.
Features
Easy-to-learn: Control your turtle with just a simple tap or click.
Rewarding: Gather pearls for points.
Addictive Gameplay: This endless game ensures limitless fun.
Vivid Graphics: Enjoy engaging visuals set in an underwater environment.
What are the best online games?