D. Copter Reloaded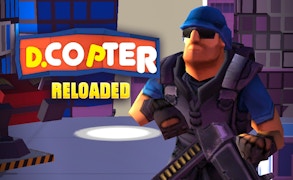 D. Copter Reloaded
Description
D. Copter Reloaded is an exciting 3D shooting game that takes you high into the skies. You're in control of a high-powered helicopter, tasked with completing various dangerous shooting missions. The game combines the thrill of aerial combat with tactical sniping, putting you right in the center of intense, gangster-themed skirmishes.
How to play
The controls for D. Copter Reloaded are user-friendly: use your keyboard's arrow keys for navigation and mouse for aiming and shooting. Your progress in the game is determined by how well you perform on missions - clearing objectives efficiently earns you better rewards and unlocks more challenging tasks. Remember to keep your guard up as enemies will strike back fiercely!
Tips and Tricks
Balancing between shooting from distance and close-quarters combat is vital in D. Copter Reloaded. Use your sniper skills to take out distant enemies while simultaneously avoiding incoming attacks with your helicopter's maneuverability. Don't forget to upgrade weapons and helicopter parts whenever possible for a better survival chance.
Features
Nail-biting gun & aerial battles against ruthless gangsters.
Precision sniping and strategic combat.
Detailed 3D environment, offering an immersive gaming experience.
Persistent upgrades system for weapons and copter's parts.
An array of challenging missions to test your combat skills.
What are the best online games?