Cybertruck Drive Simulator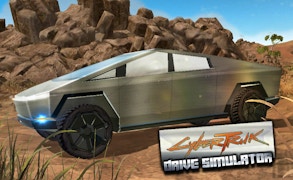 Cybertruck Drive Simulator
Immerse yourself in the exhilarating world of car games with Cybertruck Drive Simulator, the latest sensation making waves in the realm of driving games. This enthralling game offers a unique off-the-beaten-track playing experience that goes beyond mundane driving simulations, setting a new benchmark for offroad games.
Cybertruck Drive Simulator brilliantly encapsulates the thrill and challenge of commanding the most talked-about new truck on incredibly realistic terrains. Imagine yourself as a daredevil driver at the helm of an innovative Cybertruck, skillfully navigating through perilous roads to collect flags, all while keeping damage to your vehicle at a bare minimum. Sounds exciting, doesn't it? That's Cybertruck Drive Simulator for you.
The game triumphs particularly when it comes to providing a bona fide driving experience. Equipped with an advanced interface and realistic physics, the game showcases its superiority among other truck games. The sound effects are so lifelike that you'll practically feel the wind on your face as you rumble over rugged terrains, collecting flags before time runs out.
In Cybertruck Drive Simulator, each level is an adrenaline-charged amalgamation of speed, strategy and finesse. The real magic lies in minimizing damage to your vehicle while maximizing flag collections within strict time constraints.
In conclusion, if you're a fan of car games, driving games or simply crave for some thrilling off-road action, then Cybertruck Drive Simulator is a must-play. It masterfully combines realistic simulation with mind-bending challenges and gameplay that keeps you hooked for hours on end. Happy Racing!
What are the best online games?