Cubic Cubic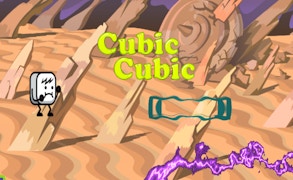 Cubic Cubic
Description
Step into the fascinating world of Cubic Cubic, an arcade block game that's all about strategy and precision. Navigate through five distinct levels, each with escalating difficulty, and aim for the elusive bonus level. With its exhilarating gameplay, this escape game will engage your cognitive skills while offering endless fun. Rise to the challenge and rack up points as you demonstrate your prowess in Cubic Cubic.
How to play
Cubic Cubic is designed with intuitive controls that are easy to grasp. Use directional input on your device to move your block around each level. The objective is straightforward - escape the confines of each cubic structure by finding a way out, while avoiding obstacles that could halt your progress. Remember, each level gets progressively difficult!
Tips and Tricks
Developing a keen eye for patterns can help you navigate through Cubic Cubic. Experiment with different paths till you find the fastest route to escape. Don't rush - sometimes, slowing down can give you the time needed to avoid a tricky obstacle.
Features
Skill-based block arcade game.
Five unique levels with escalating difficulty.
A bonus level for high scorers.
Obstacles for additional challenge in each level.
Straightforward objectives and easy-to-use controls.
What are the best online games?