Crystal Gem Pearl Dress Up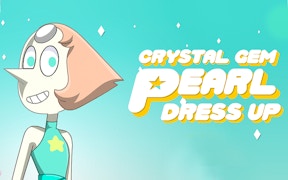 Crystal Gem Pearl Dress Up
Get ready to step into the enchanting world of Crystal Gems with the new Crystal Gem Pearl Dress Up game – a vivid representation of kids' favorites, anime games, dress up games and makeup games with a sprinkle of Hairdresser Games. This fun-packed game is sure to hook the hearts of little girls who are always on the lookout for adventurous Games for Girls.
This immersive game brings you up-close and personal with Pearl - one of Rose Quartz's faithful followers and last surviving Gems on Earth. She's been defending our beautiful planet for millennia and now, it's your turn to step into her shoes, or better yet, design them yourself!
With Crystal Gem Pearl Dress Up, you can create your own version of Pearl; from her casual look right down to her regenerations and fantastic fusions! Isn't that exciting! This game will make you feel like a professional hairdresser or a makeup artist at times, making it more than just your average dress-up game.
Apart from this, you'll experience a great storytelling journey teaching Steven, Rose's son about the ways of Gems. The captivating narrative woven within adds an extra layer of depth to this seemingly light-hearted game.
The graphics are lovely with eye-catching anime style that mirrors Pearl's character perfectly. And the gameplay? It's straightforward but engaging ensuring hours of endless fun!
It doesn't matter whether you're just bored on a Saturday afternoon or if you're a die-hard fan of Crystal Gems; this is one unique anime dress up game that definitely deserves a spot in your collection. So why wait? Let your imagination run wild and have fun with Crystal Gem Pearl Dress Up.
What are the best online games?