Crystal Gem Amethyst Dress Up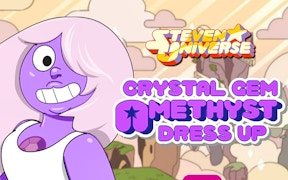 Crystal Gem Amethyst Dress Up
Unleash your inner fashionista and dive headfirst into the fantastical world of the Crystal Gem Amethyst Dress Up, a captivating addition to the delightful realm of games for girls. Mixing elements of anime games, this enchanting dress up extravaganza invites young players to explore a multitude of style combinations for our charming character, Amethyst.
Inspired by the beloved Steven Universe series, this game puts your creative flair to the test. As you prepare Amethyst for her next epic adventure with Steven and the rest of the Crystal Gems, you're given a comprehensive portfolio of outfits and accessories. It's a compelling process that never feels repetitive or tedious, making this one of the standout dress up games on the market.
But it's not just about attire. The experience also extends to hair and makeup, placing it among the leading titles in both Hairdresser Games and Makeup Games. Whether you fancy an eccentric hairstyle or a subtle blush, there's plenty to experiment with. The game encourages kids to express their personal aesthetic preferences freely without limitations.
The animations are sleek, and the art style is reminiscent of Japanese anime blended with western cartoon charm that doesn't go unnoticed. The vibrant colors and meticulous detail intricately woven into each unique design truly bring Amethyst to life on screen.
Crystal Gem Amethyst Dress Up is not just a game. It's a supreme sandbox of style that effortlessly blends creativity and fun while staying true to its anime roots. For those on the hunt for an engaging dress-up experience that goes above and beyond in terms of depth and replayability, Crystal Gem Amethyst Dress Up is a gem that shines brighter than most in its genre.
What are the best online games?