Crypto Master!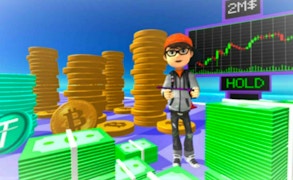 Crypto Master!
Step into the bright, action-packed world of Crypto Master!, a standout title in the realm of Hyper Casual Games. This game cleverly combines elements of money games, running games, and unique aspects from the world of Crypto and Blockchain games.
From the moment you press play, Crypto Master! throws you into a vibrant environment where dollars are as plentiful as crypto coins. The masterstroke of this game lies in its simple yet intricate gameplay - gather your dollars, purchase crypto, add to your trail, and watch as your wealth accumulates. Can you become the richest player? Only time (and your knack for dodging obstacles) will tell.
Your journey to riches is not without its hurdles. In true running game fashion, various obstacles threaten to disrupt your money-collecting bonanza. Each level presents new challenges to test your agility and quick thinking. Nothing is handed on a silver platter in Crypto Master! - it is a testament to rewarding hard work and smart strategising.
But becoming rich isn't just about amassing crypto coins. Flex your financial prowess by deciding whether to hodl or splurge on fancy items. Discover first-hand the thrill that comes with being in control of your own digital fortune.
In a sea of similar-sounding Hyper Casual Games, Crypto Master! breaks the mold with its innovative take on money games. Its unique spin on running games mechanics coupled with an introduction to Crypto and Blockchain makes this game an exciting venture into virtual wealth generation.
Elevate your gaming experience with Crypto Master! – where every dollar collected brings you one step closer to achieving crypto supremacy.
What are the best online games?