Cross the Bridge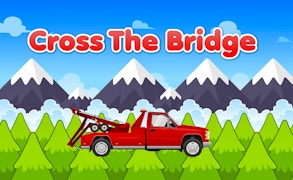 Cross the Bridge
Description
In Cross the Bridge, you'll be faced with a unique challenge that tests your problem-solving skills and reflexes. Your task is simple yet exciting; create a path for your car to traverse across the bridge before time runs out. The quicker you complete the path, the higher your score. It's a game where swiftness, precision and strategic thinking come into play.
How to play
Control your car using keyboard or on-screen buttons, as per your comfort. Your goal is to quickly find the shortest path across the bridge. You'll progress through levels - each more complex and challenging than the previous - as you master and complete each stage successfully. Remember, time is ticking!
Tips and Tricks
Prioritize identifying and constructing your path quickly; this will help you achieve optimum scores. Be alert to any obstacles or challenges that suddenly appear on the bridge. Practice navigating through them swiftly without compromising your speed.
Features
User-friendly controls suitable for all age groups
A variety of unique levels with different difficulty settings
Tough obstacles in later levels to challenge your skills
A real-time clock to keep track of time-sensitive tasks
Vivid graphics and sound effects for an immersive experience

.
What are the best online games?
Tags